Travelling always messes up my routine, and with a last minute 19 hour trip to LA coming up I knew my next recipe had to be something healthy that I could bring to snack on. While I'm super grateful to get vegan meals on my flights, I find they tend to lack in two things: greens and plant-based proteins, so I made these Super Green Protein Balls to help get a little boost of those!
Filled with moringa, spirulina & chlorella powder, these balls are packed with nutrients and antioxidants as well as plant-based protein from the nuts, seeds and hemp hearts. Bear in mind that while these shouldn't replace your greens completely, they're super handy to have especially when vegetables aren't as accessible.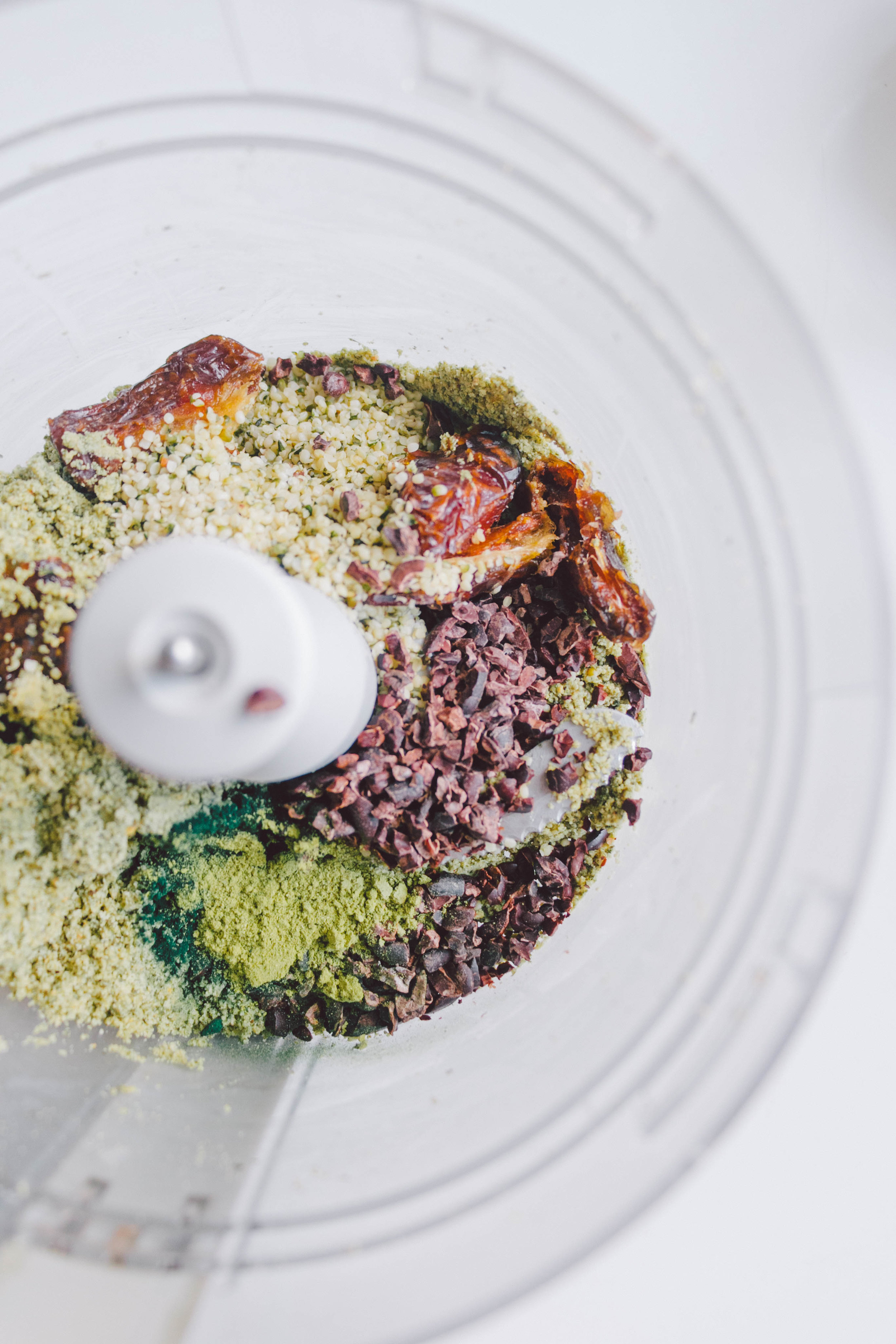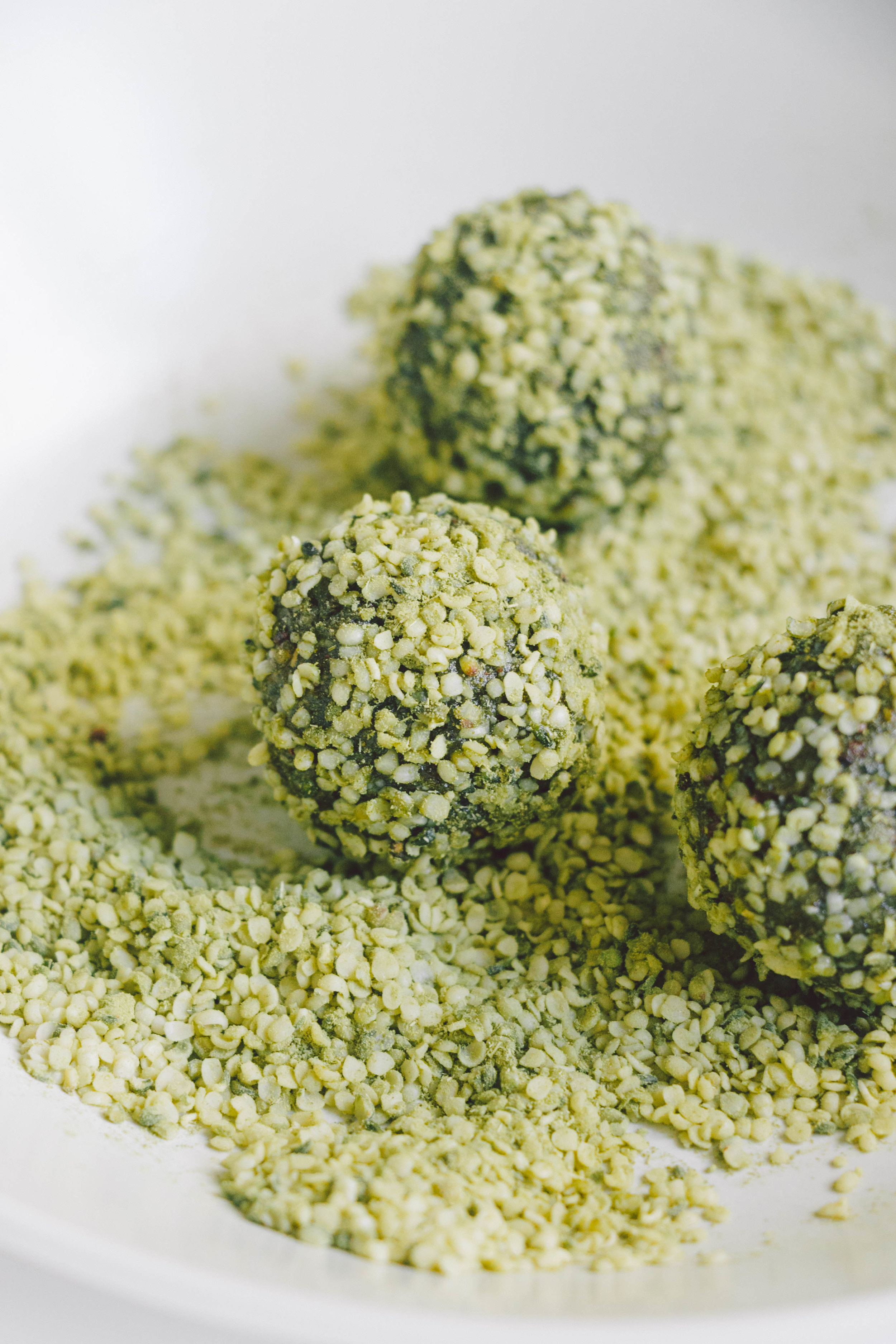 THESE SUPER GREEN PROTEIN BALLS:
are completely vegan, gluten-free and refined sugar free

contain 14.4g of protein per serving (2 balls) from natural sources like nuts, seeds, spirulina and hemp hearts & protein

are packed with vitamin and antioxidant rich superfoods like moringa, spirulina & chlorella powder
LET'S TALK ABOUT THE GREENS:
Moringa: made from the leaves of the Moringa Tree, also known as the 'Miracle Tree'. Moringa has been used for centuries for its medicinal properties and health benefits, including its ability to protect the liver, fight inflammation, and lower cholesterol. It's packed with antioxidants and vitamins such as vitamin A, B vitamins, folate and vitamin C. It's also a rich source of essential amino acids, the building blocks of proteins.
Spirulina: a blue, green micro algae considered to be one of the most nutrient dense foods in the world. Spirulina is a great source of plant-based protein, iron, chlorophyll and antioxidants. It's known for its inflammation-fighting properties, as well as its ability to help regulate the immune system.
Chlorella: a green micro algae with the highest concentration of chlorophyll of all foods, including other algaes and leafy veggies. Chlorella is exceptionally great for detoxing the body, as it binds to toxins and heavy metals and stops them from being reabsorbed. It also helps cleanse the bowels and liver.
These balls are a great snack to have on hand for busy moments. Just make them ahead and pop them into your bag to have when you need a quick snack. I conveniently got all the superfoods I used in this recipe from Organicule Superfoods. I love their products because they're high quality and affordable! 
RECIPE
SUPER GREEN PROTEIN BALLS (VGN, GF, RSF)
MAKES 24 BALLS
1. Roast nuts and seeds. Add the cashews and pumpkin seeds to a baking tray and place it in an oven preheated to 175°C. Roast the nuts and seeds for 10 mins. Once done, remove from the oven and place aside to cool slightly.
2. Blitz nuts and seeds. Add the roasted nuts and seeds to a food processor and blitz until your desired consistency.*
3. Blend remaining ingredients. Remove the seeds from the dates and discard. Add the deseeded dates and the remaining ingredients for the balls into the food processor and blend until combined. It should form a sticky dough like consistency.
4. Roll balls. Taking roughly 1 tbsp of the ball mixture and roll in your hands until it forms a ball. Place your desired toppings in a bowl and roll your ball in it to garnish. I used more hemp hearts mixed with moringa powder, desiccated coconut and rose petals.
* If you'd like them to be more chunky, blend for less time. I blend mine a bit longer as I prefer it to be processed more finely.