I'm pretty particular about my granola—I like for it to have lots of crispy clumps and prefer for it not to be loaded with low quality oils and sugars. This homemade granola is my way of ticking all those boxes. It's oil-free, not too sweet and definitely has that satisfying crunch. Naturally flavoured, this granola has a great chocolate malt flavour and lots of added superfood benefits from the maca, cacao powder and hemp hearts.
Aquafaba as a Replacement to Oil
Aquafaba is the liquid that comes from canned or cooked chickpeas. As strange as it sounds, it can be used as a vegan alternative to egg whites. It works because aquafaba has similar proteins to the ones present in egg whites, so when it is beaten, it forms peaks just as egg whites do. I've used it in this recipe because egg whites are often used in granola to help bind everything and replace the need for oil!
The Other Ingredients in the Granola
Maca & cacao powder: a winning combination for me—the malty taste reminds me of an upgraded version of my childhood favourite chocolate malt drink, Milo. Apart from the taste, I love both these superfoods for their energising and hormone balancing benefits. 
Hemp hearts: I rave on about hemp hearts, so it's safe to say they're one of my favourite superfoods! They're extremely nutrient dense and I love adding them to my food for that extra boost of healthy fats, protein and amino acids. They also add a nutty flavour and go nice and crispy in this recipe.
Oats & buckwheat groats: For the base of my granola I like to use a combination of oats and buckwheat groats to keep textures interesting. Both are naturally gluten-free, but if you're worried about cross contamination make sure you get ones that are certified gluten-free.
Hazelnuts & sunflower seeds: Hazelnuts and sunflower seeds are both great sources of vitamin E, healthy fats, protein, dietary fibre and various vitamins and minerals. Sunflower seeds are especially great to have during the luteal phase (for the ladies) as the high levels of vitamin E help support progesterone levels.
Dates: Adding chopped dates to granola makes the most delicious sweet surprise, it's a trick I learnt while working at KITCH. We made our own granola and finding the little gems of dates studded through the granola was always my favourite part. I like to chop mine up into small pieces and add them in at the end so they don't get burnt while they bake.
This granola is super versatile! Keep it simple and serve with your favourite plant-based milks and fresh fruit for a quick and easy breakfast or afternoon snack. I love it with coconut yoghurt and a dollop of nut butter too, and it even makes the best topping sprinkled over smoothie bowls. It's my go-to granola at the moment, can't wait to hear what you think! Tag me if you give this recipe a go, @ssayang.life.
RECIPE
SUPERFOOD CACAO, MACA GRANOLA WITH HAZELNUTS & DATES
VEGAN, GLUTEN-FREE, REFINED-SUGAR FREE, OIL FREE
Dry:
2 cups rolled oats
½ cup buckwheat groats
¼ cup sunflower seeds
½ cup hazelnuts, roughly chopped
½ cup coconut flakes
1 tbsp maca powder
2 tbsp cacao powder
2 tbsp hemp hearts
½ tsp salt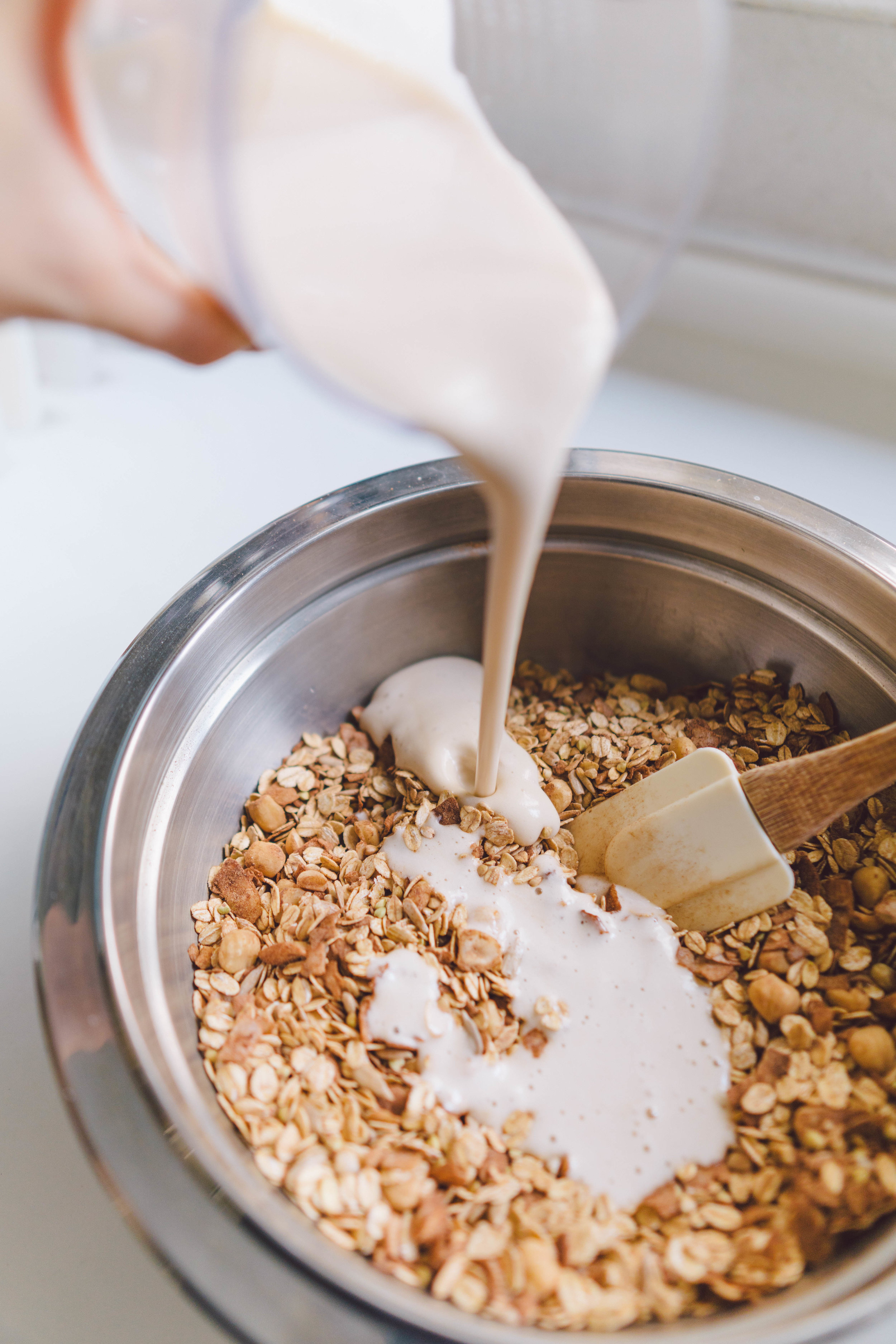 Wet:
¼ cup aquafaba
⅓ cup liquid sweetener
1 tsp vanilla extract
½ tsp apple cider vinegar
Add ins:
¼ cup dates, chopped (roughly 2)
1. Preheat the oven to 160°C and line a baking tray with baking paper
2. Roughly chop the hazelnuts and add to a big mixing bowl, with the rest of the dry ingredients. Stir to combine.
3. In a separate bowl, use an electric mixer to whisk the aquafaba for about 5-10 mins until soft peaks form.
4. Add the remaining wet ingredients to the aquafaba and whisk for 30 more seconds until combined.
5. Pour the wet mixture over the dry ingredients and fold until everything is combined and evenly coated.
6. Spread the mixture evenly over your lined baking tray and place in the oven for about 30 minutes, stirring halfway.
7. While the granola is baking, deseed and chop the dates into small pieces. Once the granola is done, remove it from the oven and stir the chopped dates through the granola. Let it sit and cool completely.
8. Serve with plant-based milks, yoghurt or over smoothie bowls. Store in an airtight jar for up to 2-3 weeks.
Recipe by
SSAYANG www.ssayang.com/
IG: @ssayang.life
Original article link - https://www.ssayang.com/all-recipes/2019/7/17/oil-free-aquafaba-superfood-cacao-maca-granola-vegan-gf